Alston Wholefoods, in the centre of the town, is a general grocer and delicatessen, which prides itself upon offering a wide range of local, regional, organic, fairtrade and special dietary foods. It is renowned especially for its stock of cheeses. Established in 1998, it is a workers' co-operative.
Based in Alston, England's highest market town and at the heart of the North Pennines AONB, we run a small specialist wholefood shop and delicatessen.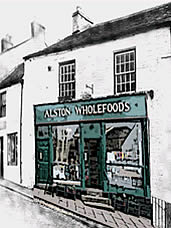 Established in 1998, we are a Workers' Co-operative dedicated to supplying carefully sourced, quality products at reasonable prices. Our aims are to support local producers, reduce food miles and promote fairtrade.
Opening hours
Monday to Saturday 9am to 5pm
Sunday 10.30am to 4.30pm – British Summertime
Sunday 10.00am to 4.00pm – Winter
We are open every day except Christmas Day, Boxing Day and New Year's Day
Tel: 01434 381 588